Today, the business world is starting to focus on science fiction. It all began with a book entitled "SF Prototyping: A New Strategy for Creating Innovation from Science Fiction," published in June 2021. We asked the co-author of the book, Dr. Hirotaka Osawa of the University of Tsukuba, about how the SF Prototyping approach was utilized in the creation of innovation. This is the second part of a conversation between Dr. Osawa and Itaru Nishizawa of Hitachi, Ltd., which was a live-streamed webinar held at the Research & Development Group, Hitachi, Ltd., on September 24, 2021.
[Part 1] What issues does AI pose for our lives?
[Part 2] How can we connect SF Prototyping with innovation?
[Part 3] What will the future relationship between social systems and AI be like?
A future prediction approach born from the world of art, literature and business
Maruyama
Dr. Osawa co-authored the book, "SF Prototyping: A New Strategy for Creating Innovation from Science Fiction," published in 2021. How can we connect the approach of SF Prototyping with innovation?
Dr. Osawa
First of all, I would like to explain the origins of SF Prototyping. In fact, the word "robot" itself originates from science fiction. Information engineering, including machine engineering and computers, has been greatly influenced by science fiction. In the 19th century, an English novelist named H.G. Wells, who later became known as the "father of science fiction," contributed articles that depicted society in the future to the scientific journal, Nature. With the gradual development of these science fiction related trends, an academic field called "Futurology" was born. Futurology is the fusion of science fiction and prediction of the future.
There are three main trends in future-thinking approaches such as Futurology. Firstly, there is the move to apply the methodologies used by designers in the field of art to solve social problems. The famous example is "Design Thinking," which came into the spotlight ten or so years ago. There is also a method called "Speculative Design," which is about detecting and thinking about a problem using design methodology.
Secondly, there is an approach to view science fiction as "Speculative Fiction" rather than just novels, and this is — in short — about interpreting what describes the possibility of the future and proposing new designs and visions through science fiction. In addition to this, Mr. Michael Bruce Sterling, the author of cyberpunk works about computers and networks, proposed "Design Fiction," the concept of depicting a designed product in fiction, in the early 2000s. His concept went on to influence designers.
Thirdly, there is the method called "Scenario Planning," which originates from the world of business. The aforementioned Futurology originates from this movement. The goal of Scenario Planning is to come up with a scenario for a better future, instead of predicting the future from a collection of information.
These three main trends influenced each other and developed concurrently. One of the core themes in the process was SF Prototyping.
How to utilize SF Prototyping in business
Maruyama
In other words, can we look at SF Prototyping as an option for strategic thinking?
Dr. Osawa
Yes. The merit of prototyping the future through science fiction is that even people who don't have a talent for drawing can think in words — it's an approach that can be used by everyone. Above all, the good thing about SF Prototyping is the fact that it achieves a shift in people's mindsets from future prediction to "future creation." Also, you can imagine an ideal future more specifically by using various characters that appear in science fiction stories.
Nishizawa
At the R&D Group I belong to, we use the method of backcasting to think about future business. We come up with a vision of society in 2050, think about what we can do to achieve it, and what to do next if it can be achieved. I think it would be very useful if we incorporated SF Prototyping into this.
By the way, for the "Prototyping" part, what specific actions are taken?
Dr. Osawa
First of all, we bring experts from various fields together to hold a workshop and think about the vision of the future. We have a creator join the workshop and we further expand it into creation of works such as novels, illustrations or manga. Also, we place great importance on making sure that the discussion expands from there, instead of just having the work finish as a product.
By using science fiction stories, you can have a constructive discussion even among people from different fields. This is an additional merit of SF Prototyping. It's often the case that people from different backgrounds come together but without a common language, they often fail to come up with a vision of the future if they are unable to freely speak their minds due to the balance of power. Stories have the power to break this deadlock and unite people.
Click here for "[Part 3] What will the future relationship between social systems and AI be like?"
Osawa Hirotaka
Born in 1982. Assistant Professor at the University of Tsukuba, Faculty of Engineering, Information and Systems.
Principal investigator of the Human-Agent Interaction Laboratory. Board member of the Science Fiction and Fantasy Writers Club of Japan. Doctor of Engineering (Keio University). Osawa Hirotaka specializes in human-agent interaction and social intelligence. He is the leader of the "Human Information Technology Ecosystem" program "Updating Imagination: The Design of Fiction by Artificial Intelligence" at the Research Institute of Science and Technology for Society, at the Japan Science and Technology Agency. He is a co-author of publications including "SF Prototyping: A New Strategy for Creating Innovation from Science Fiction," "AI Wolf: AI that Befools, Detects and Persuades," "Designing the Gap Between Humans and Robots," "Can Humans Coexist with AI?" and "Defining Trust: From Leviathan to AI." He is also the supervising editor of "SF Thinking: Skills to Think About Business and Your Future."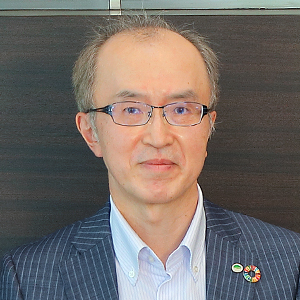 Itaru Nishizawa
Deputy General Manager, Digital Technology Innovation Center, Research & Development Group, Hitachi, Ltd. Doctor of Electrical Engineering (University of Tokyo).
Professional Engineer, Japan (Information Engineering). After joining Hitachi, he took part in the research and development of platform systems at the Central Research Laboratory. He led customer co-creation projects in the finance sector and also directed research in AI and data science. He took up his current position in 2020. He was a visiting scholar in the Department of Computer Science at Stanford University from 2002 to 2003. He completed the Advanced Management Program at Harvard Business School in 2018. He is a member of the Association for Computing Machinery (ACM), the Information Processing Society of Japan and the Institute of Electronics, Information and Communication Engineers.
Yukinobu Maruyama, host
Head of Design, Global Center for Social Innovation – Tokyo, Research & Development Group, Hitachi, Ltd.
After joining Hitachi, Yukinobu Maruyama built his career as a product designer. He was involved in the foundation of Hitachi Human Interaction Laboratory in 2001 and launched the field of vision design research in 2010 before becoming laboratory manager of the Experience Design Lab's UK Office in 2016. After returning to Japan, he worked in robotics, AI, and digital city service design before being transferred to Hitachi Global Life Solutions, Inc. to promote a vision-driven product development strategy. He is also involved in developing design methodologies and human resource education plans. He took up his current position in 2020.